Your Go-To For Dumpster Rental Hiram
Choosing Whitten Management for your next dumpster rental Hiram is the smart choice for reliable, budget-friendly dumpster service in Hiram, Georgia. Of all the roll off companies in Hiram, we are the top choice for customer satisfaction in dumpster rental Hiram.

For quality customer service and dependable drivers who will work around your schedule, choose our team of professionals. Whitten Management will deliver dependable, sturdy dumpster rentals in Hiram that work for any kind of project you have coming up.

We make cleaning up easy. With over 20 years in the industry, we know what it takes to provide disposal solutions for your residential or commercial needs. We have roll off dumpsters in Hiram for rent for many waste management needs, including construction, residential, yard waste, commercial and more. We have the best Hiram dumpster solutions for all of your waste disposal and recycling needs!

Schedule your dumpster rental Hiram by calling (770) 439-7380 today! Our professional, friendly staff is here to help you clean up and declutter your world in the fastest, most efficient way possible. We work hard to make your job easier, whether that's a project around the house or work on a construction site, our team has you covered. Get in touch today and let's get to work with our top-quality Hiram dumpster service.
20 Yard Hook Lift Dumpster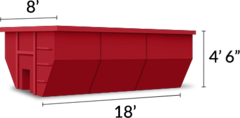 Dimensions
18' L x 8' W x 4' H
Additional Days
:
$15/day
Additional Tonnage
:
15 Yard Hook Lift Dumpster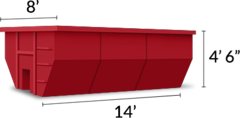 Dimensions
14' L x 8' W x 4' H
Additional Days
:
$15/day
Additional Tonnage
:
$75/ton
30 Yard Hook Lift Dumpster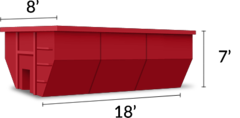 Dimensions
18' L x 8' W x 7' H
Additional Days
:
$15/day
Additional Tonnage
:
$75/ton
We Take Just About Everything
Some examples of the junk we haul away include
Refrigerator Disposal

Garbage Removal

Mattress Disposal

Foreclosure Clean Outs
Construction Waste Removal

Yard Waste Removal

Trash Removal

Appliance Removal
Television Disposal & Recycling

Furniture Removal

E-Waste Disposal

Hot Tub Disposal
Hiram Dumpster Rental For Various Uses
Whether you are a large commercial business, an independent contractor, or a homeowner with your own remodeling project, we have the perfect trash removal dumpster rental Hiram for your particular project. We tackle all of our customers' waste disposal problems, removing their debris as easily and affordably as possible. It's no wonder so many local businesses and homeowners trust us with their dumpster needs in the area!

Whitten Management has the right Hiram dumpster rental for your next job or project. You'll have peace of mind knowing that when you choose roll off dumpster rental Hiram, and Whitten Management, we will take care of your waste removal easily and efficiently. We safely transport the filled dumpsters to the Paulding County Landfill for disposal, following all proper protocols along the way.

Using Whitten Management as your next local dumpster rental Hiram GA, means you'll have our customer support team to answer your call and help you with your rental process. We're here for you every step of the way.

Eliminate the debris from your construction site, landscape, yard, commercial business, or residence with an Hiram dumpster rental from Whitten Management. Our roll off containers Hiram can be used for all of your commercial and household needs, so call us or book online today to get your next project started!
Residential Dumpster Rental Hiram GA
Make your household clean-up project easier with an affordable dumpster rental Hiram. This is the most cost-effective solution to getting rid of any unwanted items you may have lying around your home. Don't let unwanted junk throw off the vibe of your home. Get rid of it any old furniture, broken appliances, and other waste with a dumpster rental Hiram GA.

Whitten Management will provide the container that meets the needs of your project and our team will assist you in choosing the right container for your residential clean-up job or home renovation project. With multiple sizes to choose from, we're sure to have the most efficient fit for your project.

If you need any junk cleared from your property, it's time to do something about it with a trash dumpster rental in Hiram. Turn to us for disposal of all types of junk removal projects, such as household items, minor home repairs, rummage, and auction sales and storage units.

When you have junk and trash in and around your home, turn to Whitten Management for all of your dumpster rental Hiram GA disposal needs. You'll be glad you did!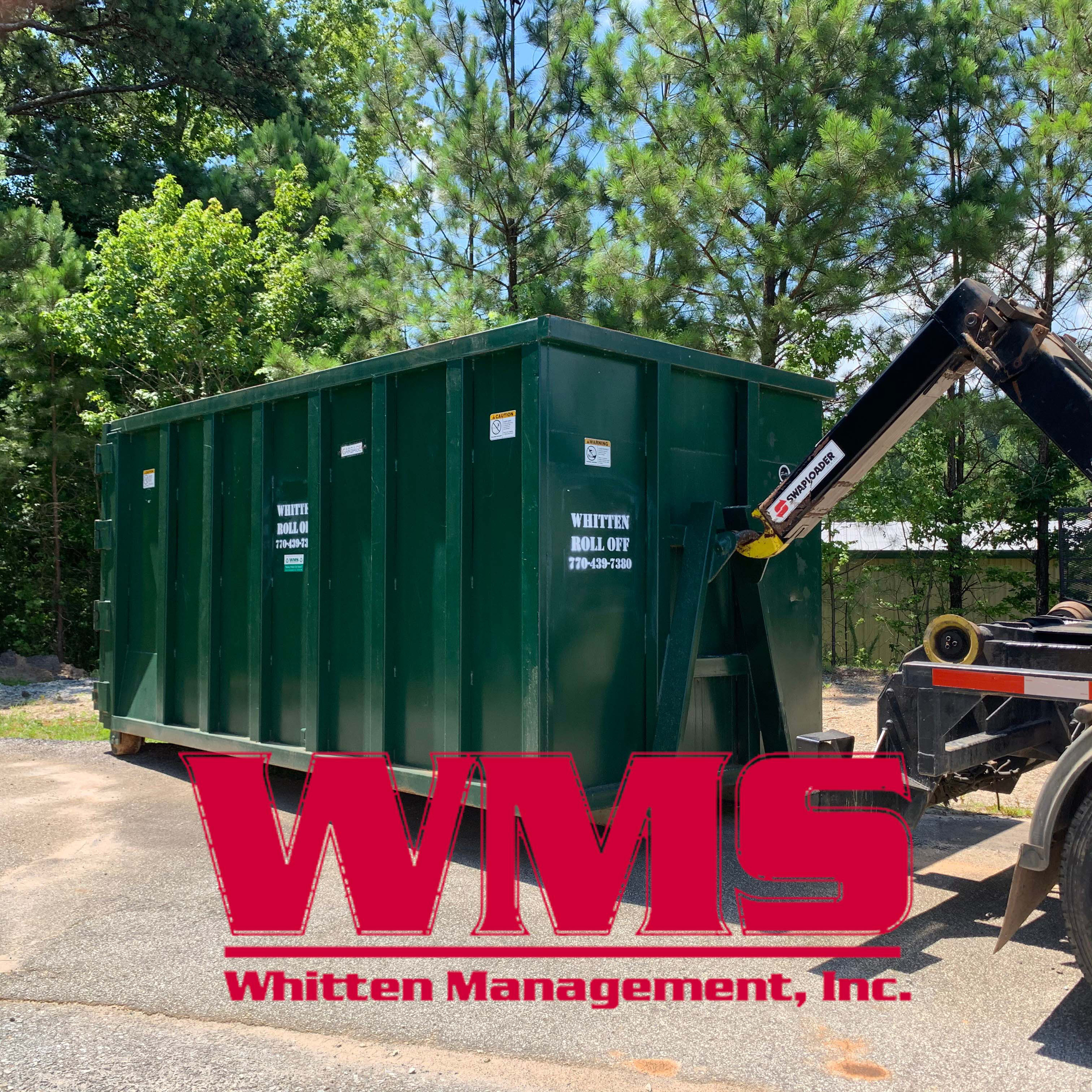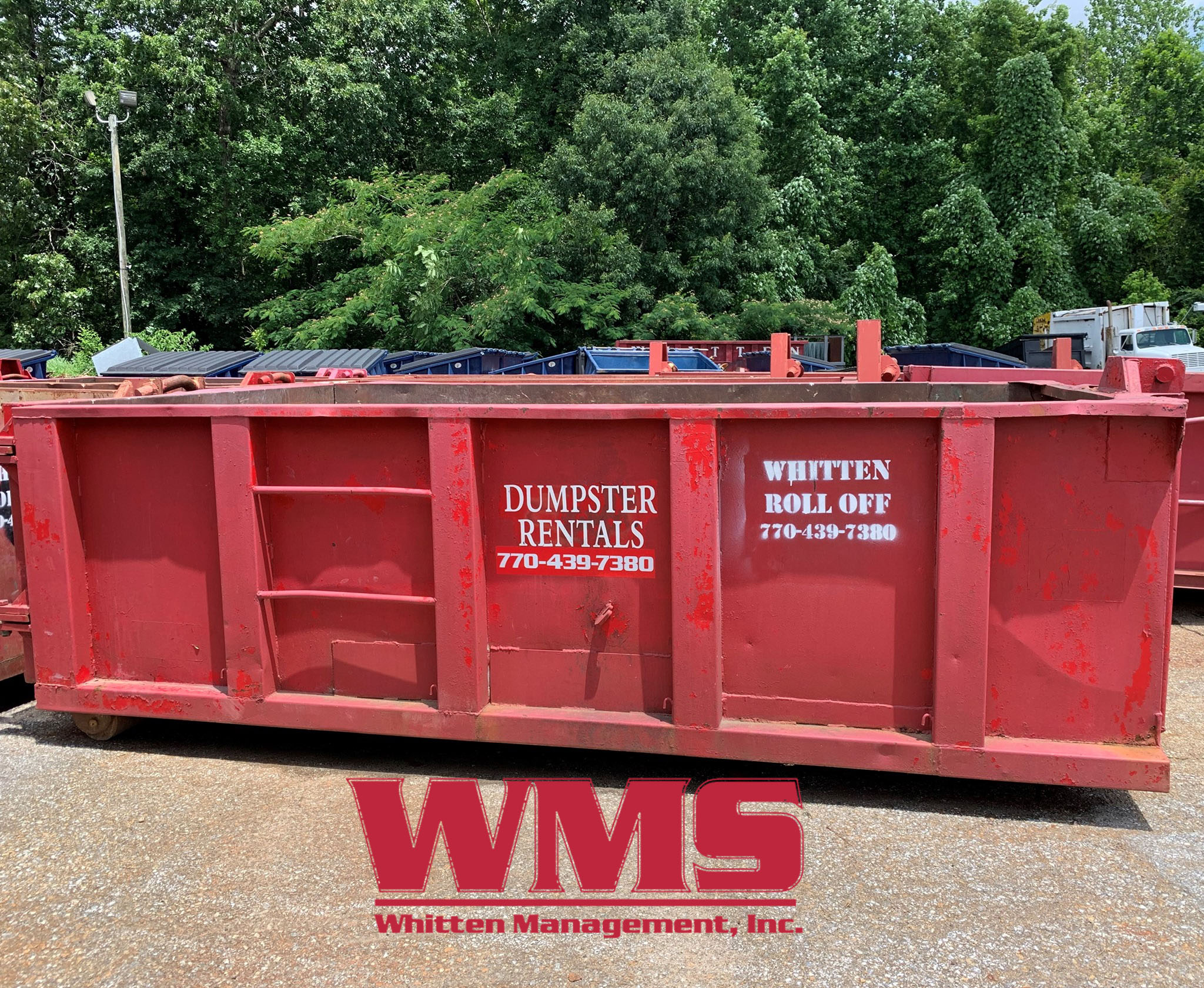 Yard Waste Roll Off Dumpsters Hiram
Whitten Management specialized in yard waste roll off dumpsters Hiram that will make the disposal job at hand easy and efficient. If you have been hit by a storm and you have debris from trees, damaged stockade fencing, or shingles, use our next day dumpster Hiram and get it cleaned up and hauled away fast.

Homeowners use our yard waste dumpsters Hiram yearly for their general garden cleanouts, tree and shrub trimmings, and to remove other debris from yards. Your home is a big investment and keeping your landscaping and yard looking good is essential to feeling great about your home. Having a roll off dumpsters Hiram in your yard for easy loading of any debris you want to be hauled away is the most cost-effective and convenient way to keep the outside of your home neat while cleaning out gardens or trimming trees.

Renting an affordable dumpster Hiram means that you will have the ability to clean up your yard, trim the trees and shrubs and have it all hauled away easily. No stress, no hassle, and no unsightly piles of yard waste that you aren't sure what to do with.
Construction Dumpster Hiram
Contractors and remodelers alike find that utilizing a construction dumpster Hiram helps them maintain a safe, clean, and organized job site. Many types of remodeling and construction projects require an efficient, cost-effective method of trash removal, which is why local contractors use a dumpster Hiram for debris removal.

Construction contracting covers a wide scope of work, creating debris of all kinds. When you rent a dumpster Hiram from Whitten Management, you can take care of all of it at once. Having a construction dumpster Hiram on your job site helps your crew keep the work area free of loose debris and hazards.

This kind of work can include removing debris of residential homes or room additions with wall blowouts, framing, drywall, siding, and roofing trim. All this debris and more can be hauled away in one of our roll away dumpsters Hiram.

Residential construction and commercial sites alike will have similar needs for waste management. From a commercial interior remodel, strip mall, office suite, or small building refurbishments, the contractor needs a large construction dumpster rental Hiram GA on site. Luckily, Whitten Management has your dumpster needs covered with several sizing options that work well for all sorts of project sizes. There's no project too big or too small for our team.


Roofing Dumpsters Hiram
Whitten Management offers low-cost dependable construction dumpsters Hiram for your next roofing job. Whether you're a homeowner with a do-it-yourself roofing repair or replacement, or a professional roofing contractor, you will need a dumpster Hiram for the debris materials.

With roofing dumpsters Hiram, disposing of shingles and sheathing is as easy as can be. We accept all commonly used roofing materials and related waste. Regardless of the size of the building or project, we have the dumpster Hiram GA for your next roofing disposal job.

We will place your roll off dumpster in Hiram GA as close to the building as possible so your crew can easily toss in debris. Use Whitten Management for your next roofing replacement or repair job because we have the dumpster service Hiram, GA you need for your debris disposal.
Commercial Roll Off Dumpsters Hiram
We never want commercial dumpster costs to exceed your budget, which is why our dumpster rental Hiram prices are competitive and sought after. Trash removal should not be at the top of the list as a concern for a business owner, so leave it to us and we will take care of your commercial waste. Our customer service representatives will answer any questions you have and provide a detailed explanation of our commercial roll off dumpsters Hiram pricing.

We understand that the needs of a business change daily, so we're flexible in our scheduling. Whether you need long-term waste management or a one-time roll off rental, we're here to help. No matter what line of business you're in or how much waste you produce every week, call us for reliable and affordable trash pick up with our roll off dumpsters Hiram.
Demolition Roll Off Dumpster Rental in Northeast Hiram
Whether you need to knock down a few walls or all of them, our demolition roll off dumpster rental in Northeast Hiram and surrounding areas is ideal for removing any amount of demolition debris. Whether you're removing a crumbling retaining wall, ripping out broken patio bricks, or tearing down a dilapidated barn, all of the debris will be contained and removed with our expert roll off dumpster rental in Hiram GA services.

Demolition jobs create a lot of debris and you need to get it out of the way ASAP. Examples of demolition debris could be residential wall removal, asphalt demolition, or deck and porch removal. Our roll off dumpster rental in Northeast Hiram will safely handle the debris from the job.

Whitten Management saves you time and money with a roll off dumpster Hiram area at your next demolition site. Never lose time hauling your debris to the landfill, we take care of the hauling for you. Better yet, you can call us for an empty-and-return service at any time during your project. When you're our customer, we take care of it all so you can focus on your own project!
Why Choose Us for an Hiram Dumpster?
Work with the dedicated team at Whitten Management for all of your Hiram dumpster waste removal needs. We are focused on excellent service and providing low-cost and effective waste removal solutions. We value the trust individuals and businesses place in us, and that's why we have always put their needs first.

We provide all of our customers friendly and helpful service, low rental fees, and convenient delivery options. Work with our dedicated team today by calling (770) 439-7380 for your next Hiram dumpster rental.
Sizes to Choose From For Your Hiram Georgia Dumpster
Whitten Management has the Hiram Georgia dumpster to handle your project's waste removal. We have the following sizes to choose from and if you need assistance in deciding what size to choose, give us a call! We are happy to help walk you through your roll off dumpster rental Hiram GA options.

15 Yard Dumpster: This Hiram roll off is great for home projects with bulkier materials, such as attic cleanouts, flooring removal, basement cleanups, full-room renovation projects, and more.
20 Yard Dumpster: Our 20 yard trash dumpster rental Hiram is a popular option for medium-sized home improvement and construction projects, such as roof replacement, landscaping, home remodeling, and small-scale construction jobs.
30 Yard Dumpster: This dumpster rental Hiram Georgia is useful for larger projects with a lot of debris, such as office cleanouts, home additions, and estate cleanouts, as well as most construction or demolition jobs.

Our team at Whitten Management provides our customers with Hiram Georgia dumpster rentals for every waste disposal need. Get in touch with us today by calling (770) 439-7380 or use our convenient online booking tool.
How to Rent a Dumpster Hiram
It couldn't be easier to rent a dumpster Hiram than when you choose Whitten Management. Whether you are a new customer looking to set up a dumpster rental or are one of our dozens of repeat customers, you can get a free quote for your project by calling our team at (770) 439-7380. Our customer service representatives will guide you through the size selection, placement, and pickup leaving nothing to chance so you can focus on your project.

Anyone can rent a dumpster Hiram GA day or night at a time most convenient for you on our website. We have made it possible to choose the size, date, and location that you'll be needing the rental, and provide payment all in one transaction. Our amazing customer service reps are here at any point to help answer questions that come up, but it's comforting to know that you can get your dumpster rental plans moving anytime you wish with our easy online ordering system when you're ready to rent a dumpster Hiram.
Serving All Your Dumpster Rental Near Me in Hiram Needs
We're proud to service The ATL and surrounding areas, so when you're searching for
dumpster rental near me in Hiram
, Whitten Management is the best in the area for waste dumpsters Hiram. Our company serves a wide area, including the counties of Fulton, Dekalb, Paulding, and Cobb with local dumpster rental Hiram, GA. We're available in Powder Springs GA, Atlanta GA, Marietta GA, Dalals GA, Hiram GA, and
Douglasville GA
.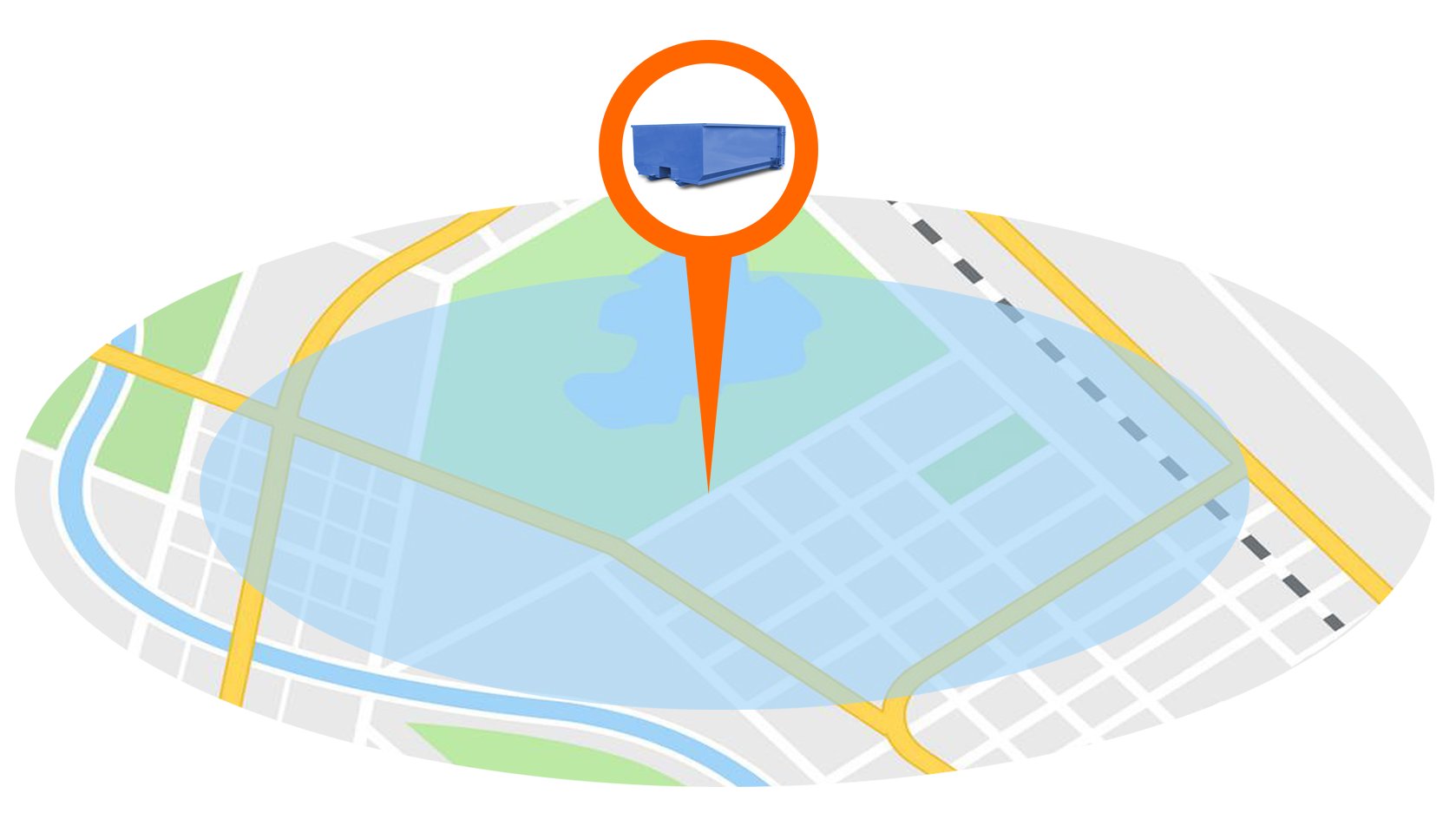 Homeowners, business owners, and contractors all want the best local dumpster rental in Hiram and you have found it with Whitten Management. Call us next time you need a dumpster rental near me in Hiram and you'll become another one of our satisfied customers, guaranteed.

We proudly serve the following zip codes: 30141

Don't see your city or zip code listed? Give us a shout and let's see what we can do to get you started with our dumpster rental in Hiram GA.
Service Area
FAQs for Our Dumpster Service Hiram
There are several frequently asked questions when it comes to our dumpster service Hiram. Here are a few of the most common questions that our customers ask when preparing to rent a container with our team. Please feel free to call with any other questions that you have regarding our Hiram dumpster rental prices and other details. Our friendly customer service representatives are here to help make this process as smooth and pain-free as possible for you.
Q.
What size dumpster do I need?
A.
The right dumpster size for your project depends on the types of materials you're hauling away. We offer a wide variety of sizes, including small dumpster rental Hiram for garage clean outs, to larger containers for construction jobs. Call us to discuss the scale of your project and our customer service team will help you choose the best dumpster for the job.
Q.
What can and can't I put in a dumpster?
A.
Use your dumpster to dispose of common household debris and construction debris, including yard waste, shingles and roofing materials, old furniture, and appliances. Flammable, toxic, or otherwise hazardous materials are not allowed in our dumpsters.

Q.
Is there a right way to load a dumpster??

A.
It's best to load a dumpster as evenly as possible. This will allow you to fit more debris inside and help to ensure you don't overload the dumpster. It's also important to make sure that no items hang over the side or stick up over the top of the container since this can make it dangerous for the hauler to pick up the dumpster.

Q.
How much does it cost to rent your dumpsters?
A.
The dumpster rental Hiram cost of the dumpster rental depends on the size of the container and the length of rental time you need the bin. While we can't guarantee the cheapest dumpster rental Hiram, we do promise to offer competitive prices and quality service!
If you have any additional questions regarding our dumpster service Hiram, give us a call or get in touch with us through out website.